---
The one with the VIDEO!
---
Hi all! It is that time of the month for me to be over on The Rabbit Hole Designs YouTube page. I show you the three cards I have made from the Bunny Christmas stamp set as well as one using 1 Line Reindeer. Seems I really was not kidding when I said I would be showing you a lot of Christmas cards this month! Now, on with the show and tell…
---
It was fun picking the colors for all the boxes. I definitely used my color wheel. This helped me to coordinate the ribbon colors as well as making sure the box colors worked next to each other in a nice flow.
---
Since this is a larger image I did not need to add many layers or much bling.
---
---
Copic List:
Star on Wand: YR23, Y15, Y00, Y11
Bunny: W3, W2, W1, RV13, RV11, RV10
Box 1: YG67, YG17, YG25, R59, R46, R27
Box 2: B02, B01, B00
Box 3: RV34, RV32, RV11, W3, W2, W1
Box 4: YR23, Y15, Y00, Y11, V17, V15, V12
Box 5: YG17, YG25, YG03, E43, E42, E41
Box 6: B24, B23, B21, YG17, YG25, YG03, YR23, Y15, Y11
Box 7: YG67, YG13, YG11, Y08, Y06, Y04
Box 8: R46, R27, R14
Shadow: C1
---
Card Details:
Card base of Accent Opaque White 120lb
Plaid layer cut with Lacy Layers die, adhered with tape runner
Image stamped on Hammermill with Obsidian, colored with Various Copic Markers, cut with lacy layers die, adhered with fun foam and 1/4 inch double side adhesive
Gold Jewelz added to wand
Red Honey Bee gem added to beige box
Envelope embellished with matching paper and 6 inch double side adhesive
---
Shopping List:
Affiliate links have been used in this post at no cost to you. If you do happen to click and buy, I may get a small percentage.
Thank You for supporting my little blog.
---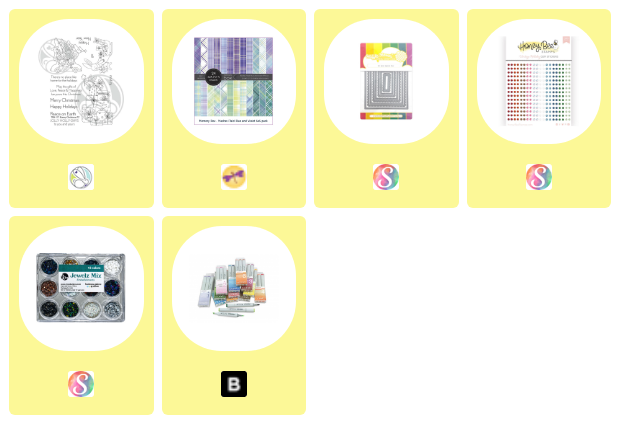 If you would like to see all the basic items I like to use in my studio; like glue, tape runner, tools ect. Please click My Go-To's.
---
---
Don't want to miss a post? Sign up below to have them delivered right to your inbox!
---
---