---
More Spellbinders Hot Foiling FUN!
---
Hi All! I have another no-coloring card for you today. I really, really love the Spellbinders hot foiling line. This plate set is no exception. Of course I had to have it bee-cause of the bee. I had a ton of fun putting this one together, it almost has a mixed media feel……maybe bee-cause of all the rhinestones. Anyways, I hope you enjoy it as much as I do. Now! on with the Show & Tell…
---
Two different types of rhinestones were used. Small gold fairy gems and those fun Jewelz in different sizes. The Jewlez ones catch the light in different colors and really reminded me of deep rich pollen!
---
Two different foils were used also. The Aura foil which is gold based but has a rainbow in it and the bright gold. I recently had to go thru the foil list and label mine!
---
I love that they combine the hot foil and cutting plates.
---
Card Details:
Card base of Accent Opaque White 120lb
Tropical Teal cut with Lacy Layers die, adhered with tape runner
Memory Box madras blue (retired) cut with lacy Layers die, adhered with fun foam and 1/4 inch double side adhesive
Tropical Teal cut with nesting square, adhered with fun foam and 1/4 inch double side adhesive
Honeycomb hot foiled on glimmer specialty paper, cut with nesting square and ink blended over with Shabby Shutters distress oxide, afhered with tape runner
Honeycomb bits cut with die from Kraft metallic paper, adhered with zig glue
Sentiment hot foiled to glimmer specialty paper, cut with word window, adhered behind with tape runner
Bee hot foiled, adhered with foam sqaures
Various rhinestones added
Envelope embellished with matching paper and 6 inch double side adhesive
---
Shopping List:
Affiliate links have been used in this post at no cost to you. If you do happen to click and buy, I may get a small percentage.
Thank You for supporting my little blog.
---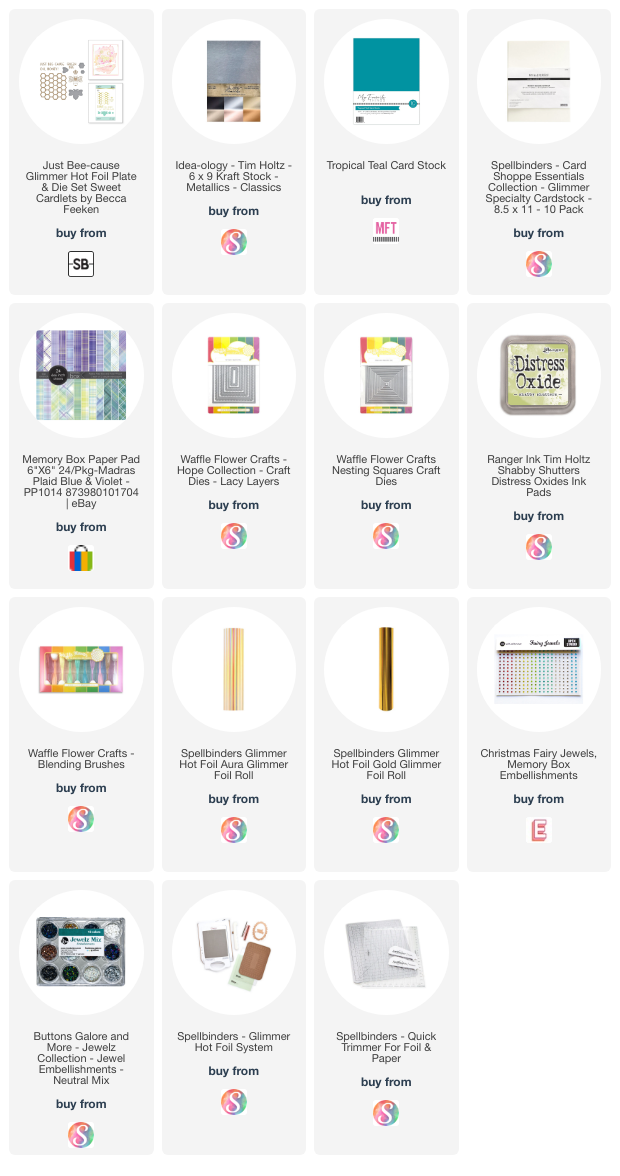 If you would like to see all the basic items I like to use in my studio; like glue, tape runner, tools ect. Please click My Go-To's.
---
---
Don't want to miss a post? Sign up below to have them delivered right to your inbox!
---
---