---
#NancyandJillcolortogether
---
Hi All! I have something fun for you today. As you know Nancy of Rowhouse Greetings is a good friend if mine. We chat often, sharing cards, tips, techniques and all the crazy things friends share! Like most card makers we need a boost, or mojo recharge and a kick in the backside when we get into a slump. Recently Nancy and I were both feeling this way, so I suggested "lets color the same image once a month and blog about it, sharing on each others blog". Fun, right?! Go check us out on Instagram too, we started a new hashtag for our collaboration, #NancyandJillcolortogether. Nancy chose the first image, which is from Mo Manning (a favorite of BOTH of us!) called Snowflakes. This is a sweet image, for some reason it makes me think of old timey London. Now, on with the show and tell…
---
---
I chose my colors so that they looked a bit faded and worn.
---
I paired my image with some old music paper, to me it gives the card a Christmassy feel.
---
---
Copic List:
Coat: E44, E43, E42. E41
Petticoat: BV20, RV11, R00
Dress: B93, B91, W1
Scarf/Hat/Gloves: BG96, BG93, BG90
Basket: E79, E57, E35, E31
Boots: N6, N4, N2
Stockings: W3, W2
Skin: E11, E21, E51, R11
Grounding: W1, W0, W00
Poppies: R27, R14
---
Card Details:
Card base of Accent Opaque White 120lb
Wild Cherry layer cut with nesting rectangle, adhered with tape runner
Music note layer cut with nesting rectangle, adhered with tape runner
Image printed on Hammermill, colored with various Copic Markers, cut with retired scallop oval die, adhered with fun foam and 1/4 inch double side adhesive
Nuvo glitter drops in Gold Coast added to snow for glimmer
Nuvo vintage drops in red alert added to buttons
Black glaze pen used for centers of the poppies
Envelope embellished with matching paper and 6 inch double side adhesive
---
Shopping List:
Affiliate links have been used in this post at no cost to you. If you do happen to click and buy, I may get a small percentage.
Thank You for supporting my little blog.
---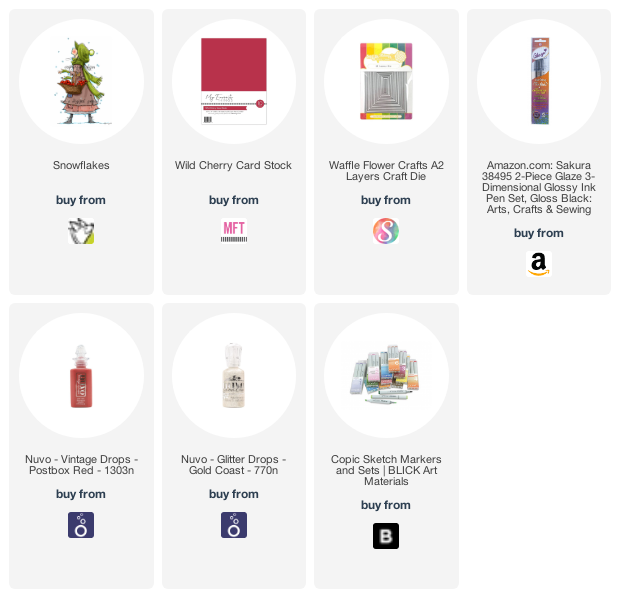 If you would like to see all the basic items I like to use in my studio; like glue, tape runner, tools ect. Please click My Go-To's.
---
---
Don't want to miss a post? Sign up below to have them delivered right to your inbox!
---
---