---
It's been a while since I colored up an Oddball…
---
Hi All! You know I love my Oddballs from Stamping Bella. Apple Cider Oddball is no exception. She's all bundled up for Fall toting her apples and cider. I bet that jug has hard cider in it! When I was a kid, my parents would buy locally made cider and keep it outside. Being unpasteurized, eventually it would get" fizzy". Oh how I loved that "fizzy" cider. Maybe that is where my love of sparkling wine comes from. LOL! Now, on with the show and tell…
---
I used a patterned paper with a lighter shade of sage to balance out the darker sage scarf.
---
If I had to pick a favorite part of this card it would be the fall leaves in her hair. I used a color combo for copper and they just turned out perfectly.
---
---
Copic List:
Hair: C9, C7, C5, B41
Leaves in Hair: E37, E08, E97
Berries, Apples, Jacket: R59, R46, R35
Skulls: BV20
Scarf: BG99, BG96, BG93
Stockings: BG99, BG93
Basket: E35, E33, E31
Jug: E44, E43, E42, E41, E409, E84
Apple Leaves: YG67, YG63, YG61
Skin: E11, E21, E51, R11
Boots: W7, W5, W3
Ground: T6, T5, T4
---
Card Details:
Card base of Accent Opaque White 120lb
Gingham layer cut with rectangle layering die, adhered with tape runne
Long rectangles cut from word windows with both base paper and Kraft paper, cheers cut from kraft, pieces adhered together and to card with tape runner
Image stamped on Hammermill, colored with various copic markers, cut with rectangle layering die, adhered with fun foam and 1/4 inch double side adhesive
White gel pen added for highlights
Envelope embellished with matching paper and 6 inch double side adhesive
---
Shopping List:
Affiliate links have been used in this post at no cost to you. If you do happen to click and buy, I may get a small percentage.
Thank You for supporting my little blog.
---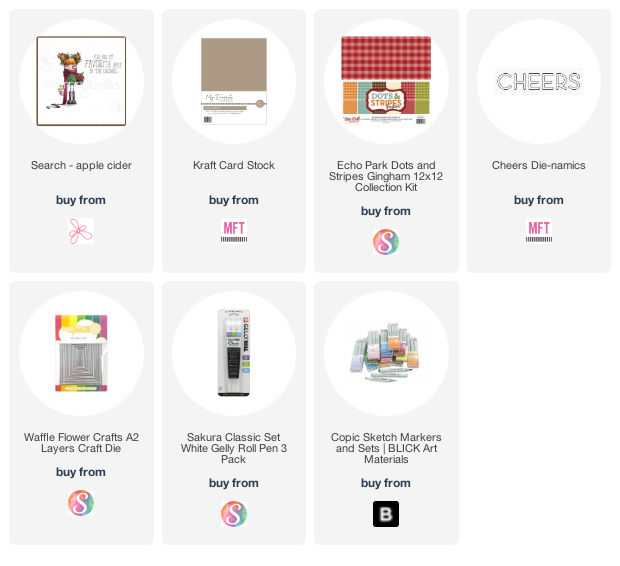 If you would like to see all the basic items I like to use in my studio; like glue, tape runner, tools ect. Please click My Go-To's.
---
---
Don't want to miss a post? Sign up below to have them delivered right to your inbox!
---
---