---
---
Hi all! Today I have my entry for the Coloring Virtuoso category. I used the ever popular Viking. I just love him to pieces. I had so much fun trying to make him over the top with coloring. I added pencil over my Copics in several areas. Two different nuvo drops and can you believe the Axe head has 7 shades of Toner Grey?! I even researched Viking Shields to get the colors authentic to the pattern. SO MUCH FUN!!! Now, on with the Show and Tell…
---
Since I wanted the main focus to be the Viking and the way he was colored I decided against setting him in any type of scene. I just made him standing on a tiny hill.
---
His shield is traditional in color and the Axe head has 7 shades of Toner Grey! About 22 different E's throughout!
---
---
Copic List:
Coat: E09, E57, E35, E23
Shield: B37, B14, B12, YR23, YR21, Y21, E79, E29, E25, E23
Shoes: E57, E35, E33, E09
Beard: W6, W5, W4, W3, W2
Shirt/Leggings: YG97, YG95, YG93
Face: E11, E21, E51
Axe handle: E79, E29, E25, E23
Axe Head: T6, T5, T4, T3, T2, T1, T0
Belt: E37, E08, E97, E21
Helmet: E37, E08, E97, E21, T4, T3, T2, T1, E43, E42, E41
Ground: E89, E84, E81
---
Prismacolor Pencil List:
Shoes: PC943
Beard: PC1094
Shirt/Leggings: PC1097
Helmet: PC1094
---
Card Details:
Card Base of Accent Opaque White 120lb
Jalapeño Popper layer cut with wonky stitched rectangle, adhered with tape runner
Colorful canvas layer cut with square die, adhered with fun foam and 1/4 inch double side adhesive
Image stamped on Hammermill with Obsidian, colored with various Copic Markers and Prismacolor pencils, cut with wonky stitched square, adhered with tape runner
Canvas paper cut in rectangle, adhered with fun foam and 1/4 inch double side adhesive
Sentiment stamped on base paper with versamark and heat embossed with clear powder, cut with word window, adhered to canvas rectangle with tape runner
Nuvo drops in Copper Penny added to center of shield
Nuvo drops in Black Board added to belt and helmet
White gel pen used for highlights
Envelope embellished with matching paper and 6 inch double side adhesive
---
Shopping List:
Affiliate links have been used in this post at no cost to you. If you do happen to click and buy, I may get a small percentage.
Thank You for supporting my little blog.
---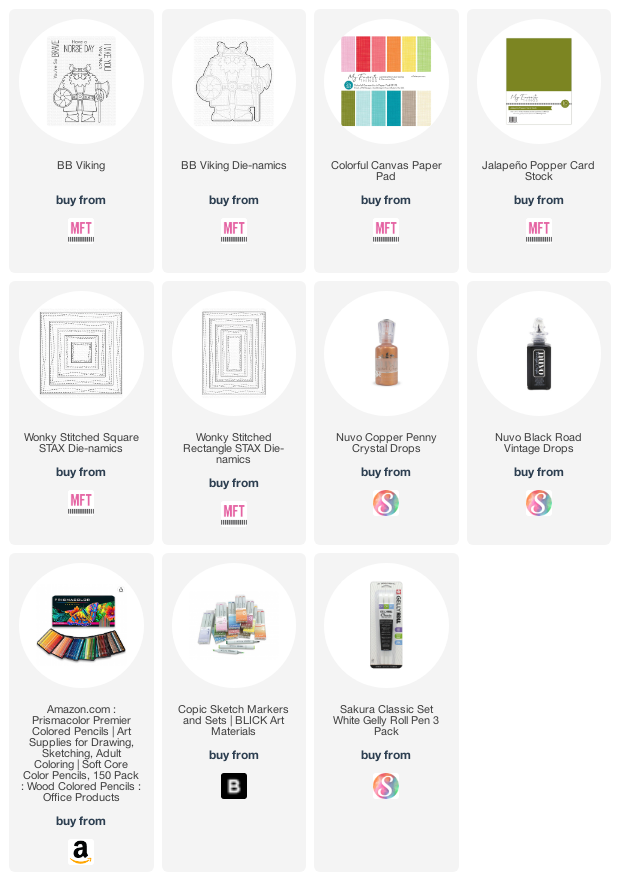 If you would like to see all the basic items I like to use in my studio; like glue, tape runner, tools ect. Please click My Go-To's.
---
---
Don't want to miss a post? Sign up below to have them delivered right to your inbox!
---
---