---
#Flockstar!
---
Are you familiar with The Rabbit Hole Designs caffeinated series? Oh boy if you are a quirky coffee lover you NEED to buzz on over and check them out. They are too funny and have an animal for everyone! Now on with the show and tell…
I googled flamingoes to see the colors. Wow, there are many shades. I loved the deep pink with a touch of black, so I ran with that combo.
---
I added stars and dot with a white gel pen on solid pink card stock. The pink gems are clear ones form Honey Bee that I colored with the RV14 marker. If you love coordinating your gems coloring clear ones is super economical and then you can really customize them.
---
---
Copic List:
Black: C7, C5, C4
Pink: RV14, RV13, RV11
Cup: E43, E42, E41
Eye: B21
Slipper: B24, B23, B21
---
Card Details:
Card base of Opaque White 120lb
Pink geometric shape cut with Geometric Double Frame, Galaxy paper also cut with that die and the center was inserted into the frame, Adghred with tape runner
Pink layer cut with geometric die, using the center, adhered with 1/4 inch double side adhesive and fun foam
Black layer cut with geometric die, black frame adhered with zig glue
Image stamped on hammermill, cut with geometric die, colored with various Copic Markers, adhered with 1/4 inch double side adhesive and fun foam
Sentiment stamped on black with versa mark and heat embossed with white powder, (DO NOT FORGET TO USE YOUR COTTONTAIL TOOL!), adhered with tape runner
Colored gems added
---
Shopping List:
Affiliate links have been used in this post at no cost to you. If you do happen to click and buy, I may get a small percentage.
Thank You for supporting my little blog.
---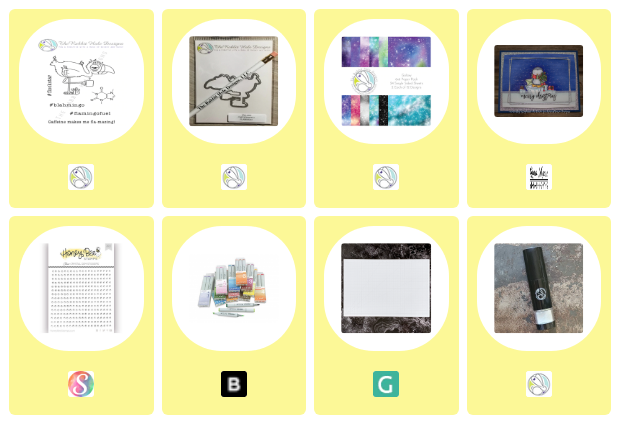 If you would like to see all the basic items I like to use in my studio; like glue, tape runner, tools ect. Please click My Go-To's.
---
---
Don't want to miss a post? Sign up below to have them delivered right to your inbox!
---
---