---
Another clever graduation card!
---
Hi All! I'm back with the other graduation card I was asked to make. This one for a man getting his Masters in Architecture. As I was searching for digital images I found most were geared to kids, tween and teens. Not so much for "Adults". I found this awesome image with stacked books. The only problem was that it has this cute little mouse hanging from the tassel, not very manly…… But I printed and colored the image anyway. Still thinking the mouse had to go. If this was a physical stamp I could have just blocked that part of the stamp. I had to find a way to cover it up and keep with the theme. After a day, it hit me! A little house would be perfect. Now, on with the Show & Tell…
---
Here is the card with the house! .
---
It was fun picking the book colors.
---
---
Copic List:
Hat: T8, T7, T6, T5
Light Red: R46, R27, R24
Green: YG97, YG95, YG93
Mustard: YR27, YR24, YR23
Blue: B79, B69, B66
Dark Red: R89, R39, R35
Sage: BG99, BG96, BG93
Book Titles: E41, E40
Mouse and Ground: E35, E34, E312
Mouse Belly: E11, E21, E51
Shadow: C1
---
Card Details:
Card base of Accent Opaque Whirte 120lb
Licorice layer cut with layering rectangle, adhered with tape runner
Floor to ceiling paper cut with layering rectangle, adhered with tape runner
Licorice layer cut with nesting rectangle, adhered with fun foam and 1/4 inch double side adhesive
Image printed on Hammermill, colored with Copic Markers, cut with layering rectangle, adhered with tape runner
House shape cut with die, adhered with foam square
Envelope embellished with matching paper and 6 inch double side adhesive
---
Shopping List:
Affiliate links have been used in this post at no cost to you. If you do happen to click and buy, I may get a small percentage.
Thank You for supporting my little blog.
---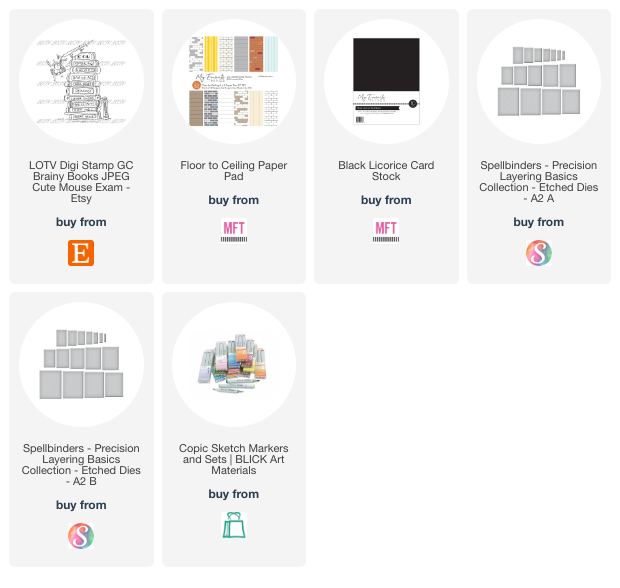 If you would like to see all the basic items I like to use in my studio; like glue, tape runner, tools ect. Please click My Go-To's.
---
---
Don't want to miss a post? Sign up below to have them delivered right to your inbox!
---
---