---
Creatively made into a Graduation card!
---
Hi All! Today I have a fun hot foil card featuring a VW Beetle that I made into a graduation card! Recently my neighbor asked me to make two graduation cards for her kids. Both are graduating with Masters, her daughter in Education and son in Architecture. I will show you the sons card in a few days. As usual I try and personalize cards. I know Jocelyn drives a cute beetle with those fun eyelashes on it. She also loves pink. So that's what I was working with. Now, on with the Show & Tell…
---
This set was the Glimmer of the Month for 1/2023. It is available for purchase and is a really fun set. Look into the Spellbinders Clubs, they are fantastic!
---
Adding the congratulations sentiment and a cap transformed this into a graduation card! If you look close I even added little eyelashes.
---
The pastel pink hot foil worked beautifully on the Shimmer paper.
---
Copic List:
Flowers: RV09, RV14, RV13, RV23
Leaves: YG17, YG13, YG11, G07, G14, YG03
Cap: T8, T7, T6, T5
---
Card Details:
Card base of Accent Opaque White 120lb
Licorice layer cut with layering rectangle, adhered with tape runner
Pretty In Plaid layer cut with layering rectangle, adhered with tape runner
Licorice layer cut with layering rectangle, adhered with fun foam and 1/4 inch double side adhesive
Car hot foiled with Pastel Pink Foil on Shimmer paper, cut with coordinating die, I also cut the shape 3 more times and glued them all together in a stack with Tonic Deluxe glue, adhered to card with same glue
Bouquet hot foiled with opaque black on Hammermill, colored with Copic markers and cut with coordinating die
Adhered with tape runner and a foam square
Sentiment hot foiled with pastel pink on Shimmer paper, cut with word die, adhered with foam squaes
Graduation cap printed on Hammermill from clip art, colored with copic markers, cut with Scan N Cut, adhered with glue
Honey Bee gems added for fun
Tiny eyelashes added for personalization!
Envelope embellished with coordinating paper and 6 inch double side adhesive
---
Shopping List:
Affiliate links have been used in this post at no cost to you. If you do happen to click and buy, I may get a small percentage.
Thank You for supporting my little blog.
---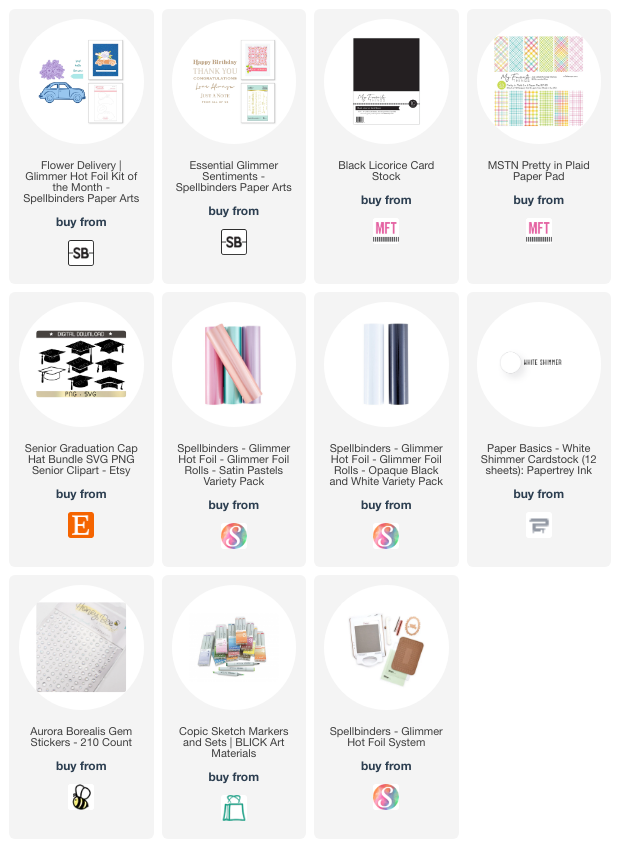 If you would like to see all the basic items I like to use in my studio; like glue, tape runner, tools ect. Please click My Go-To's.
---
---
Don't want to miss a post? Sign up below to have them delivered right to your inbox!
---
---