---
All Dressed Up Challenge Time!
---
Hi All! It is All Dressed Up challenge time! Join us over on the All Dressed Up Facebook page for Julys FB Challenge. This month the theme is "Anything You Want". I used "Happy Holiday". I chose Happy Holiday for my Anything You Want, because I want some beach time!! FYI, there is actual sand on my card. What is your 'anything'? Leave me a comment and let me know. Now, on with the Show & Tell…
---
Yes! I used my Mudd Puddles sand mix. It's so fun and adds loads of dimension.
---
I found the perfect sentiment in a retired set from Stampendous called Brushed Wishes.
---
---
Copic List:
Lounge: E37, E34, E31, E43, E42, E41
Lips: R14
Skin: E11, E21, E51
Hair: C7, C5, B41
Olo Marker List:
Bathing Suit: RV0.6, RV0.5, RV0.2
Book: YG2.5, YG2.3, YG2.1
---
Card Details:
Card base of Accent Opaque White 120lb
Ripe Raspberry cut wit A3 layering rectangle, adhered with tape runner
Pretty in Plaid cut with same die set, adhered with tape runner
Ripe Raspberry cut with same die set, adhered with fun foam and 1/4 inch double side adhesive
Image printed on Hammermill, colored with Copic and Olo markers, cut with same die set, adhered with tape runner
Mudd Puddles sand added for dimensional grounding
Sentiment stamped in Versafine and heat embossed with clear powder
Envelope embellished with matching paper and 6 inch double side adhesive
---
Shopping List:
Affiliate links have been used in this post at no cost to you. If you do happen to click and buy, I may get a small percentage.
Thank You for supporting my little blog.
---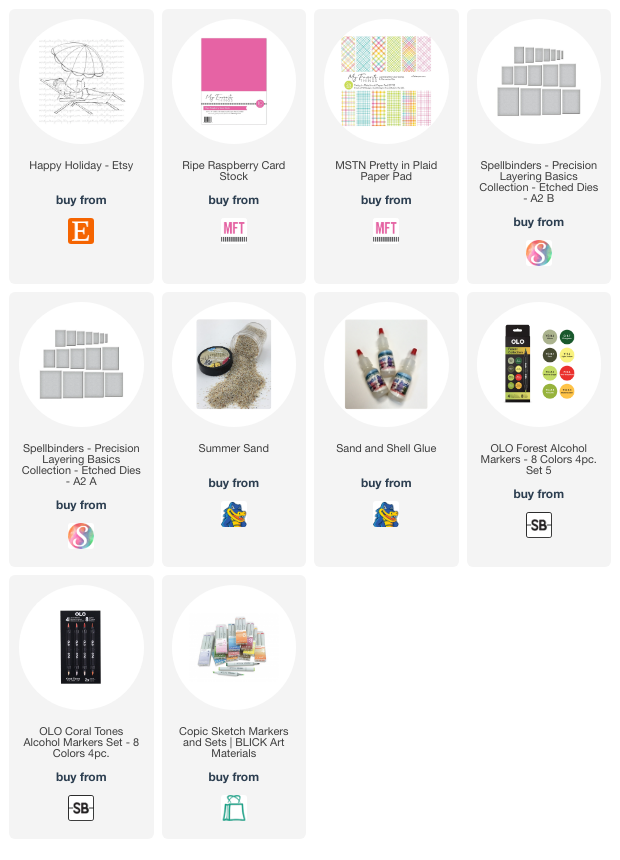 If you would like to see all the basic items I like to use in my studio; like glue, tape runner, tools ect. Please click My Go-To's.
---
---
Don't want to miss a post? Sign up below to have them delivered right to your inbox!
---
---