---
---
Hi All! Finally the 7th of the month and new releases from All Dressed Up Stamps.I have a fun girly image for you called "Looking Good" ! I love these images, though sometimes I feel they are a bit young.That is one reason I have been giving them grey hair, to give them some maturity or to show that older ladies ARE HIP TOO! I am kind of partial to whimsical people and these ladies from All Dressed Up never fail to charm me. Now, on with the Show & Tell…
---
I colored her with mostly Copic Markers, only her shirt and sneakers are Olo Marker.
---
I paired her with some teal "canvas" paper, some retired pale orange (SU Grapefruit Grove) and a torn doily to break up the rectangles.
---
---
Olo Marker List:
Shirts and Shoes: B2.6, B2.4, B2.2, B2.0
Copic List:
Bag: E43, E42, E41, YR18, Y02, E93
Pants: T4, T3, T2, T1
Skin: E13, E11, E21, E51, R11
Lips: R14
Hair: C5, C4, C3, C2
Prismacolor Pencil List:
Hair shading: PC1065 70% Cool Grey
---
Card Details:
Card base of Accent Opaque White 120lb
Grapefruit Grove layer cut with Scalloped die, adhered with tape runner
Teal canvas layer cut with rectangle die, adhered with fun foam and 1/4 inch double side adhesive
Doily cut in half, adhered with tape runner
basic gray layer cut with nesting rectangle, adhered with fun foam and 1/4 inch double side adhesive
Image printed on Hammermill, colored with Olo and Copic markers and Prismacolor pencil
White gel pen used to make polka dots on bag
Fairy gems added for bling
Envelope embellished with matching paper and 6 inch double side adhesive
---
Shopping List:
Affiliate links have been used in this post at no cost to you. If you do happen to click and buy, I may get a small percentage.
Thank You for supporting my little blog.
---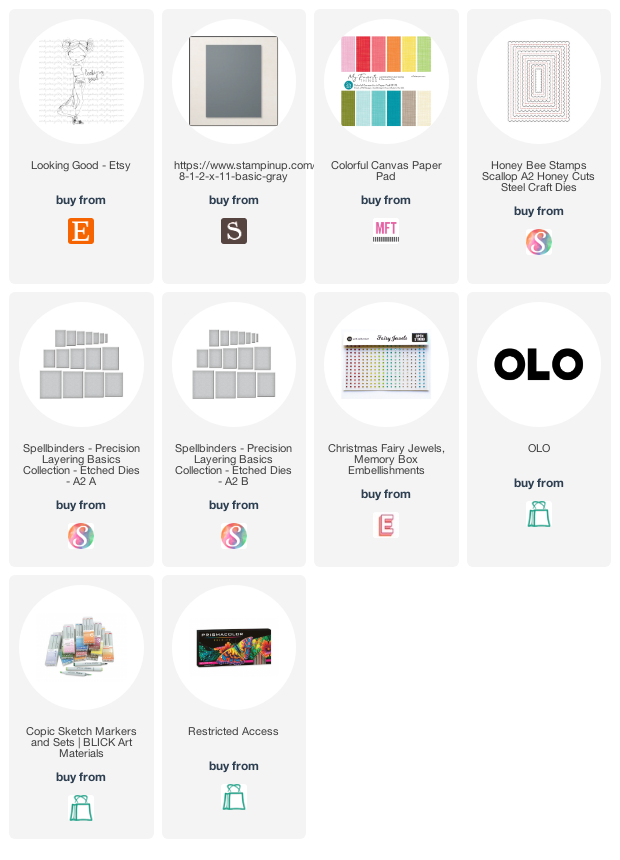 If you would like to see all the basic items I like to use in my studio; like glue, tape runner, tools ect. Please click My Go-To's.
---
Don't want to miss a post? Sign up below to have them delivered right to your inbox!
---
---