---
But it is NOT a Christmas card!
---
Hi All! It is All Dressed Up challenge time! Join us over on the All Dressed Up Facebook page for Januarys FB Challenge. This month the theme is Make It Cute. I chose to use Christmas Skate . How will you "Keep it Cute" and what stamp will you use?? Drop me a note and let me know. Now, on with the Show and Tell…
---
I chose her dress color first then paired it with the paper! This happens more often than not, because when I look at an image I generally have an idea of what color palette I want. Lucky for me I have loads of paper. 🙃🤪
---
Since there was gold in the patterned paper I used that as my secondary color. I used this gold paper from MFT, I just got it and its really nice.
---
The snowfall drops are used for the snow, the Yellow Bird on the ear muffs and pom-poms.
---
Copic List:
Outfit: B04, B01, B000
Scarf, Hat, Ear Muffs: Y19, Y15, Y02
Skin: E23, E11, E21, E53, R11
Holly & Berries: R27, YG45
Hair: E35, E33, YR31
Skates: C1, C0, C00
Penguin: W7, W6, W5, W4, W3, W2, W1, W0, W00, R000
---
Card Details:
Card base of Accent Opaque White 120lb
Gold paper curt with rectangle die, adhered with tape runner
Ink Drop paper cut with rectangle die, adhered with tape runner
Gold Oval cut with nesting Oval die, adhered with fun foam and 1/4 inch double side adhesive
Image printed on Hammermill, colored with various Copic Markers, cut with nesting Oval, adhered with tape runner
Sentiment hot foiled on Glimmer Specialty paper, cut with word window, adhered with tape runner
Fresh Snowfall glitter drops added to snow, Yellow Bird glitter drops added to ear muffs and pom-poms
Gold Honey Bee gems added to sentiment strip
Envelope embellished with matching papers and 6 inch double side adhesive
---
Shopping List:
Affiliate links have been used in this post at no cost to you. If you do happen to click and buy, I may get a small percentage.
Thank You for supporting my little blog.
---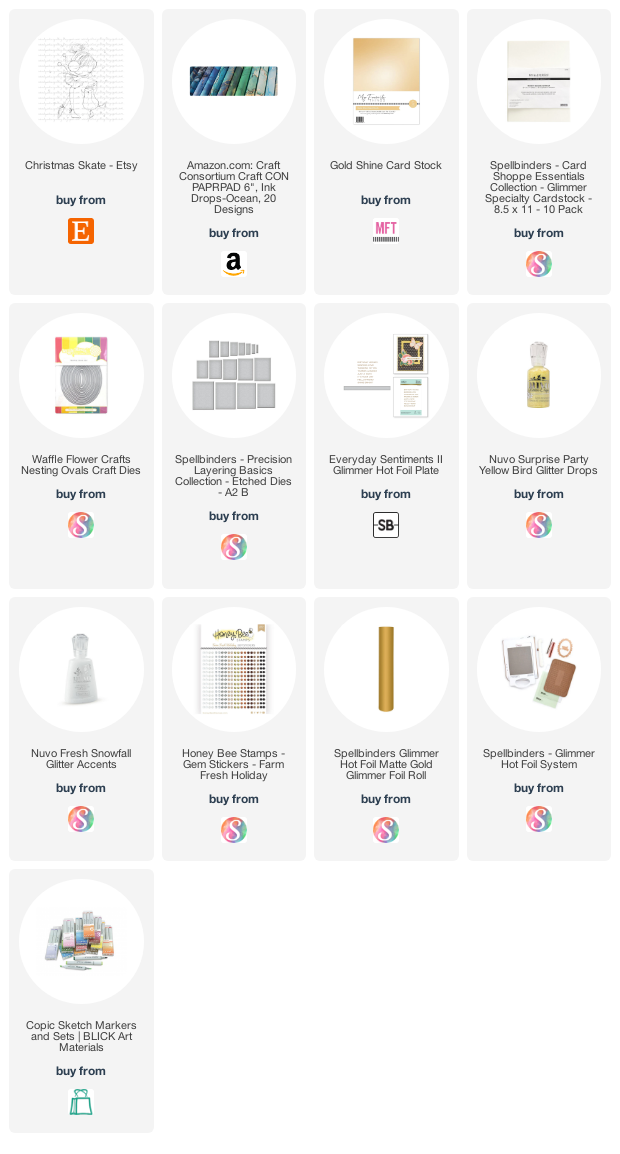 If you would like to see all the basic items I like to use in my studio; like glue, tape runner, tools ect. Please click My Go-To's.
---
Don't want to miss a post? Sign up below to have them delivered right to your inbox!
---
---
---