---
#NancyAndJillColorTogether
---
Hi All! it's time for my friend Nancy of Row House Greetings and I to color up the same image. We have been having so much fun trying NOT to color these alike. I try to go out of the box so our images are not so alike, and sometimes that backfires! lol. This month I chose the image. It is from Whimsy Stamps and is available as a Digital and a Red Rubber Stamp. Both are listed below in my Shopping List. I cannot wait to see what Nancy picks for next month, especially after last months image with ALL those arms and legs!!! Now, on with the Show & Tell…
---
Once again, we chose similar colors. Nancy went with softer hues, while I went bold. I love the neon green pops of color! To visit Nancy's blog and get all the details for her card CLICK HERE.
---
Using a snow marker can be a bit of a pain. Mine always seems to flow out a ton. So this time I dispensed some fluid out of the marker into a silicone ramekin and applied it with a small paint brush. BOOM! it went right where I wanted it without any blobs or overflow. Yipeeeeeeeeeee!
---
I kept my layout simple with only a strip of pattern paper and a blue outline for my image. There is SO much going on with the image that I did not want it to get lost in layers and paper.
---
A little white gel pen high light goes a long way!
---
Copic List:
Scarf, Hat & Vest: B99, B97, B95, RV34, RV32, RV11, R00
Birds: BV01,. BV00, BV000, RV11, YR02, YR61, YR20
Bell: YR23, Y15, Y11
Nose: YR09, YR07, YR15
Berries: R46, R27, R14
Leaves: BG96, BG93, BG90
Tree Branch: E59, E57, E35, E31
Candle: E44, E43, E42, E41, YR18, YR15, Y15, Y11
Snowman: BV20, B000, B0000, R11
---
Card Details:
Card Base of Accent Opaque White 120lb
Plaid layer cut with trimmer, adhered with tape runner
Blue layer cut with nesting square die, adhered with fun foam and 1/4 inch double side adhesive
Image printed on Hammermill, colored with Various Copic Markers, cut with nesting square, adhered with tape runner
Snow Marker added to create snow
Prism Gems added for a bit of bling
Envelope embellished with matching paper and 6 inch double side adhesive
---
Shopping List:
Affiliate links have been used in this post at no cost to you. If you do happen to click and buy, I may get a small percentage.
Thank You for supporting my little blog.
---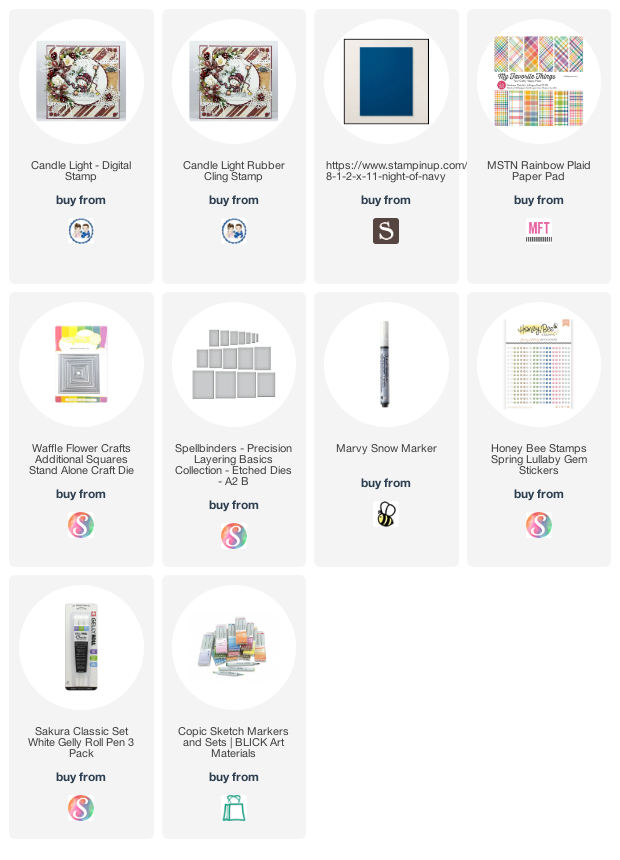 If you would like to see all the basic items I like to use in my studio; like glue, tape runner, tools ect. Please click My Go-To's.
---
---
Don't want to miss a post? Sign up below to have them delivered right to your inbox!
---
---