---
It's time for another #NancyAnd JillColorTogether
---
Hi all! It's time for my friend Nancy of Row House Greetings and my monthly challenge. We hope you guys are enjoying our venture! This month Nancy chose the image. We used another great digital, this one from LOTV or Lili Of The Valley and it is called Sledging. It is a cute image of FIVE kids on a sled. Whew, this one took a lot of thought and a lot of markers. In fact it took me over 50 different markers. Now, on with the Show and Tell…
---
Here is Nancy's I love the way she used blue as a focal color. To find out all about her card click HERE to go to her blog!
---
I used blues also, but darker ones except for the gifts.
---
While Nancy used bright primary colors, I went with warm fuzzy colors.
---
I chose to not add any sentiment, allowing the image to be the message.
---
Copic List:
Sled: R56, R37, R35, E44, E43, E42
Skin: E11, E21, E51
Gifts: C5, C3, C1, B06, B04, B02
Kid 1: W5, W3, B08, B04, B02, YG67, YG63, YG03, E74, E71, E70
Kid 2: YR23, YR21, Y21, Y97, Y95, Y93, B99, B97, B95, E79, E57, E35
Kid 3: R89, R39, R37, BG78, BG75, BG72, C7, C5, C3
Kid 4: BG99, BG96, BG93, BG90, YTR24, YR21,. Y21, B97, B95, B93, E84, E34, E31, E30
Kid 5: RV19, RV17, RV34, YG17, TY13, YG11, RV34, RV31, RV11, B95, B93, B91
Snow: BV25, BV23, BV20
---
Card Details:
Card base of Accent Opaque White 120lb
Snowflake paper cut with nesting rectangle, adhered with tape runner
Metallic red paper cut with nesting rectangle, adhered with fun foam and 1/4 inch double side adhesive
Image printed on Hammermill, colored with Various Copic Markers, cut with Scalloped Rectangle, adhered with tape runner
Wink of Stella added to snow for sparkle
White gel pen used to add highlights
Envelope embellished with matching papers
---
Shopping List:
Affiliate links have been used in this post at no cost to you. If you do happen to click and buy, I may get a small percentage.
Thank You for supporting my little blog.
---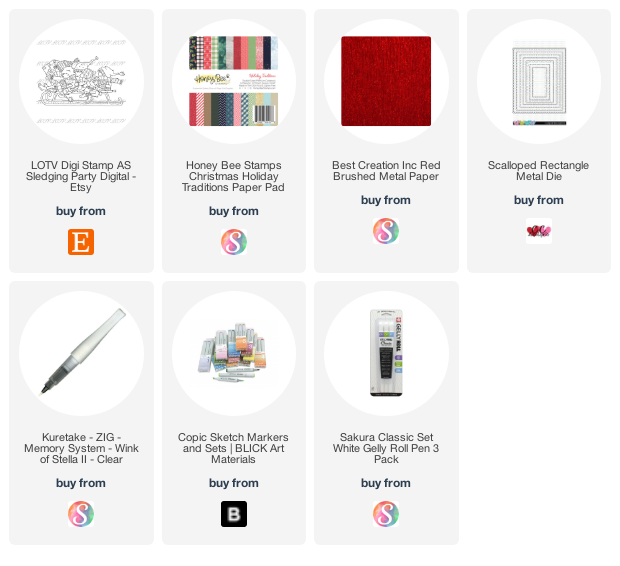 If you would like to see all the basic items I like to use in my studio; like glue, tape runner, tools ect. Please click My Go-To's.
---
---
Don't want to miss a post? Sign up below to have them delivered right to your inbox!
---
---