---
Clean and simple in design AND message!
---
Hi All! Ever since I did my clean and simple entry for MFT I have been craving more clean and simple layouts! I love clean and simple, but felt I used that formula way too often. But boy it has been nice to create some. Today I have one of the three quirky oddball birds sitting on her branch "tweeting" you a simple message. Now, on with the Show and Tell…
---
I looked at these leaves and thought "ok what green will I color them with?" Then I thought, "hmmm NO! let's do fall colors" That is how I ended up with these cool rust colored leaves. I have been using this color combo a lot lately. Do you do that?
---
I chose blue for the bird to balance the rusty orange of the leaves and patterned paper. Wanting my branch to NOT be browny brown I chose the E40's going for a more birch bark color.
---
---
Copic List:
Leaves: E37, E08, E97, E21
Branch: E44, E43, E42
Bird: B97, B95, B93, B91
Beak: YR07, YR04
Feet: W6, W5, W4
Shadow: C1
---
Card Details:
Card base of Accent Opaque White 120lb
Colorful Canvas paper cut with nesting rectangle, adhered with tape runner
Beyond Blue layer cut with nesting rectangle, adhered with fun foam and 1/4 inch double side adhesive
Branch stamped on Hammermill, cut with hand stitched nested rectangle, colored with various Copic Markers, adhered with tape runner
Bird stamped on Hammermill, colored with various Copic Markers, cut with Scan N Cut, adhered with foam squares
Sentiment stamped on base paper with Versafine and heat embossed with clear powder, cut with word bubble die, adhered with foam squares
Envelope embellished with matching paper and 6 inch double side adhesive
---
Shopping List:
Affiliate links have been used in this post at no cost to you. If you do happen to click and buy, I may get a small percentage.
Thank You for supporting my little blog.
---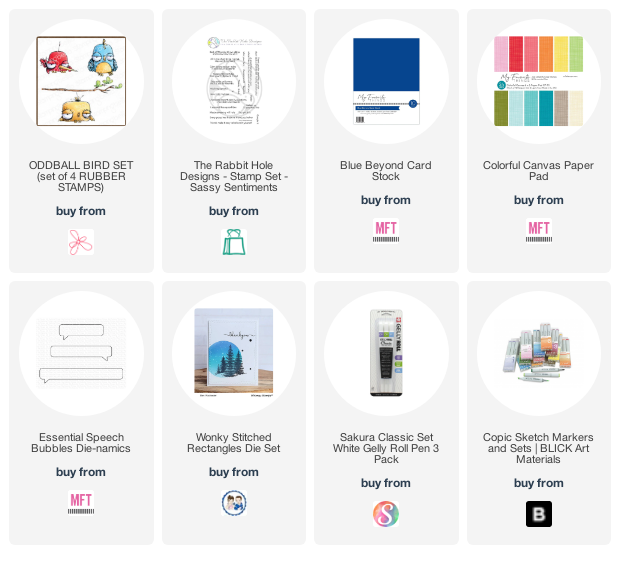 If you would like to see all the basic items I like to use in my studio; like glue, tape runner, tools ect. Please click My Go-To's.
---
---
Don't want to miss a post? Sign up below to have them delivered right to your inbox!
---
---