---
Who does not LOVE a gnome?!
---
Hi All! Today I have this cute Viking Gnome from KLM Designs. This is the last image I received for being part of PPCF's Design Team. Thanks KLM Designs! This card was so fun to design. I knew I wanted to use the Black & White Plaid paper I had, and the Altenew Linear Crossroads die. I think it turned out pretty rad! Leave me a comment and tell me what YOU think! Now, on with the show and tell…
---
Did you ever wonder why we have FOUR different families of grey Copics? Well this card is why! I can make his helmet and axe a silvery grey and his beard a warm grey. Both grey, but different. Think of how it would change if all the grey were one family….BORING!
---
Tim Holtz Metallic Kraft and the b/w plaid worked really well here. Making the leather and the green on the shield pop a bit more.
---
---
Copic List:
Hair: W5, W4, W3, W2, W1
Skin: E11, E21, E51
Shield: C5, C4, C3, C2, YG67, YG63, YG03
Axe: E29, E25, E23, C3, C2, C1, C0
Leather: E09, E08, E13
Metal on Helmet: C6, C5, C4, C3, C2
Horns: E43, E42, E41
Card Details:
Card Base of Accent Opaque White 120lb
Kraft Metallic in Onyx cut with Folk Edge Rectangle, adhered with tape runner
Plaid layer cut with folk Edge set, adhered with fun foam and 1/4 inch double side adhesive
White layer cut with rectangle die, adhered with tape runner
Linear Crossroads die used to cut Onyx metallic shape, adhered with Zig Chisel glue
Image printed on Hammermill, Colored with various Copic markers, cut with Scan N Cut, adhered with foam squares
Sentiment printed on Hammermill, cut with word window, adhered to Metallic word window with tape runner, whole piece adhered with foam squares
Black Fairy Jewels added to round out card
Envelope embellished with matching paper and 6 inch double side adhesive
---
Shopping List:
Affiliate links have been used in this post at no cost to you. If you do happen to click and buy, I may get a small percentage.
Thank You for supporting my little blog.
---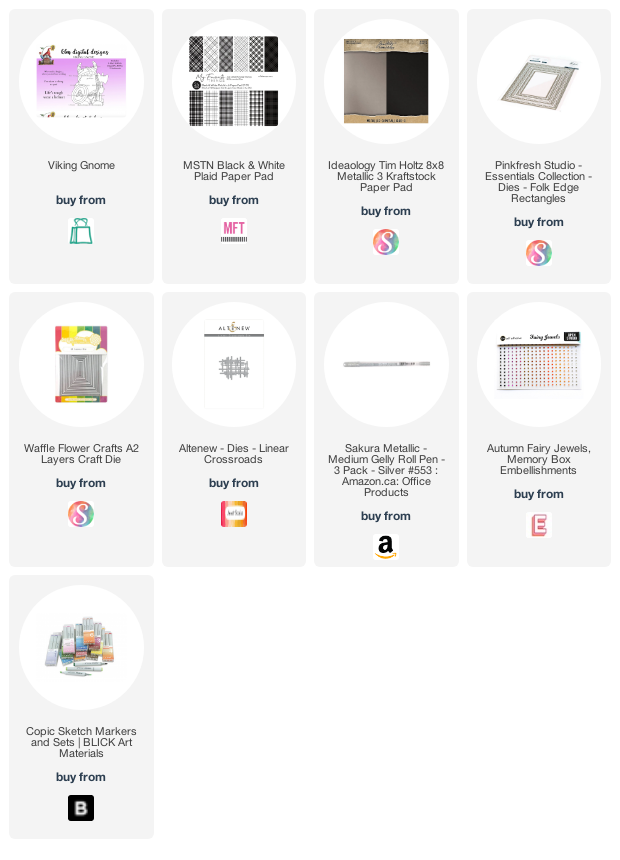 If you would like to see all the basic items I like to use in my studio; like glue, tape runner, tools ect. Please click My Go-To's.
---
---
Don't want to miss a post? Sign up below to have them delivered right to your inbox!
---
---