---
A fun NEW image from All Dressed Up!
---
It is that time again, All Dressed Up has some new images for you! I was had the privilege of coloring up Unicorn Ring, a cute summery image. I hope you enjoy my SQUARE card, now open with the show and tell…
---
I am loving all the fun summery images from All Dressed Up. Since I have done several images with a floatie ( Duck Swim and Unicorn Swim ) I decided to make this one with multi colors and added white gel pen between the colors. Then I added 3D crystal lacquer to the body to make it look plastic.
---
I generally don't vary from an A2 card! So square was a little challenge for me. I did this one 4.5 x 4.5. Letting my awesome Whimsy die fit snugly.
---
---
Copic List:
Skin: E11, E21, E51
Hair: E35, E34, E31
Mane/Tail: G02, G00, G000
Bathing Suit/Bows: Y19, Y15, Y02
Floatie: G000, B000, V000, YR000, BV000
Horn: V01, V000, V0000
Crab: R24, R22, R21, B23, B21
---
Card Details:
Card base of Accent Opaque White 120lb cut to 4.5 x 9
Cracked Pistachio distress oxide blended onto base paper, cut with inlaid bubble die, outer edge adhered with tape runner, inner square adhered with fun foam and 1/4 inch double side adhesive
Grapsicle layers cut with bubble die, adhered with tape runner
Image stamped on Hammermill, colored with various Copic Markers, cut with Scan N Cut, adhered with foam squares
3D crystal lacquer added to body of floatie
White gel pen added to eyes
Black glaze pen aded to unicorn eye
---
Shopping List:
Affiliate links have been used in this post at no cost to you. If you do happen to click and buy, I may get a small percentage.
Thank You for supporting my little blog.
---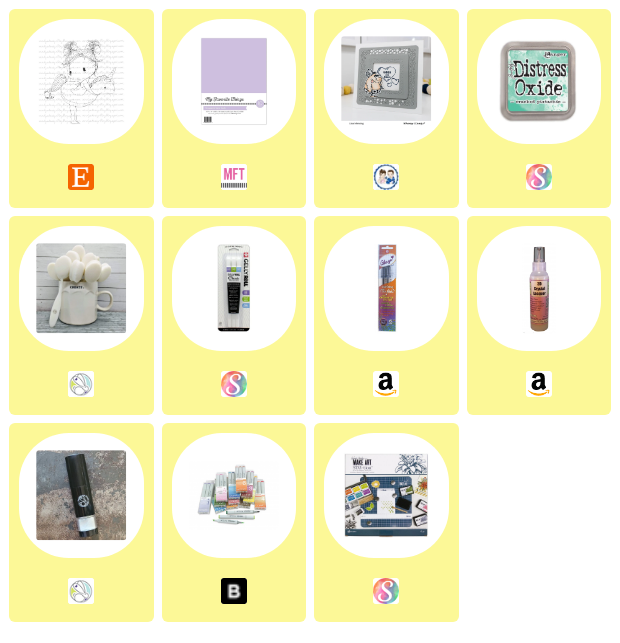 If you would like to see all the basic items I like to use in my studio; like glue, tape runner, tools ect. Please click My Go-To's.
---
---
Don't want to miss a post? Sign up below to have them delivered right to your inbox!
---
---