---
All Dressed Up had a New Release yesterday!
---
We are definitely in Festival Season, so how appropriate is this fun Festival Boy image?! I love all the little details on his pants and guitar. There are some super fun images in this release. Buzz on over to All Dressed Up and check them all out! Now, on with the show and tell….
---
I printed my image a little bigger than I normally would and placed him standing on this fun musical die cut. I added his little dog too!
---
I kept my card pretty clean and simple, but it still needed a little bling. I found a musical note stamp and used it with some green ink, then added a rhinestone to it.
---
---
Copic List:
Pants: B95, B93, B91, E43, E42, E41
Shirt: C1, C0, C00, YG17, YG13, YG11
Skin: E11, E21, E51, R11
Hair: E99, YR24, YR23
Guitar: E18, E15, E13, E35, E34, E31
Peace Sign: Y08, Y06, Y04
Feather: W2, W1, W0
Headband: YG17, YG13, YG11
Dog: W5, W4, W3, W2, W1, W0
---
Card Details:
Card base of Accent Opaque White 120lb
MFT Canvas paper cut with Stitched rectangle di, adhered with tape runner
White base paper layer cut with stitched rectangle die, adhered with fun foam and 1/4 inch double side adhesive
Musical notes cut from base paper and some tie die paper, adhered together with Zig Chisel glue, adhered with Zig glue
Image printed on Hammermill, colored with various Copic Markers, cut with Brother Scan N Cut, adhered with foam squares
Musical notes stamped with MFT Sour Apple ink, fairy jewels added for bling!
Envelope embellished with matching paper and 6 inch double side adhesive
---
Shopping List:
Affiliate links have been used in this post at no cost to you. If you do happen to click and buy, I may get a small percentage.
Thank You for supporting my little blog.
---
Glassboard Studio use code: JILL20 for a 20% discount!!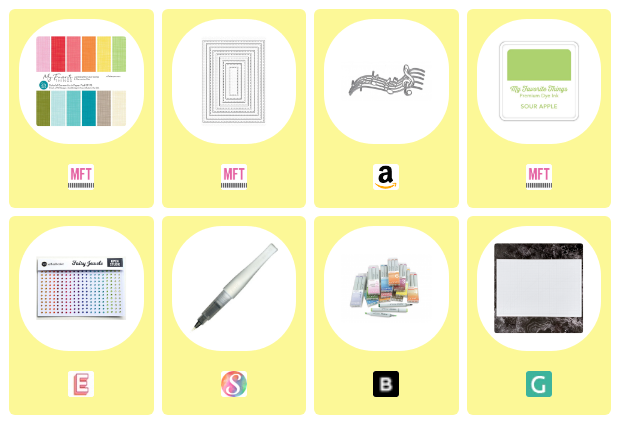 If you would like to see all the basic items I like to use in my studio; like glue, tape runner, tools ect. Please click My Go-To's.
---
Don't want to miss a post? Sign up below to have them delivered right to your inbox!
---
---