---
Summer Fun!
---
Whimsy Stamps is our sponsor July 7th-10th over at Passionate Paper Creations and Friends by Rhea. Make sure to pop over (join if you have not) and be on the lookout for specials from the Sponsor! I was lucky enough to color up Lexi's Beach Ball. They have lots of fun images, buzz on over and check them out. Now on with the show and tell….
---
I gave Lexi a cute red swim suit and a blue & white beach ball.
---
I used some YR's to create the sand, then also added some mud puddles real sand in spots over it.
---
---
Copic List:
Ball: B06, B04, B02, C1, C0, C00, Y08, Y06, Y02
Swim Suit & Bows: R27, R24, R14
Skin: E11, E21, E51, R11
Lip: R14
Hair: E37, E35, E33
Sand: YR24, YR23, YR21, YR20
---
Card Details:
Card base of Opaque white 120lb
Cornflower layer cut with retired Whimsy hand stitched nested rectangle dies, adhered with tape runner
Summer days layer cut with nesting rectangle, adhered with tape runner
Cornflower layer cut with trimmer, adhered with fun foam and 1/4 inch double side adhesive
Image printed on Hammermill, colored with various Copic Markers, cut with retired Whimsy die, adhered with tape runner
Mud Puddles sand added to beach for effect
White highlights added with .05 white golly roll
Envelope embellished with matching paper and 6 inch double side adhesive
Shopping List:
Affiliate links have been used in this post at no cost to you. If you do happen to click and buy, I may get a small percentage.
Thank You for supporting my little blog.
---
Glassboard Studio use code: JILL20 for a 20% discount!!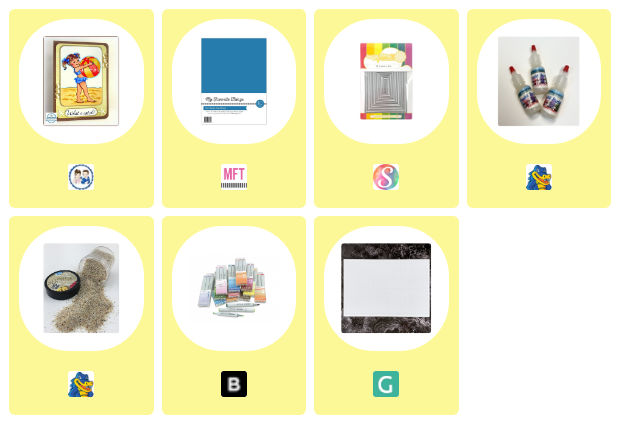 If you would like to see all the basic items I like to use in my studio; like glue, tape runner, tools ect. Please click My Go-To's.
---
---
Don't want to miss a post? Sign up below to have them delivered right to your inbox!
---
---