---
My first official Design Team project for All Dressed Up Stamps!
---
Join us over on the All Dressed Up Facebook page for July's FB Challenge. This month the theme is Holidays. I chose to use Merry & Bright from the Christmas stamps. What holiday and stamp will you use?? Me being me chose to use all non-traditional colors for my project. On with the show and tell…
---
I chose all my papers prior to coloring up my image. I do not always work this way. Most times I color up my images then hunt for coordinating papers! But, I knew I wanted to use some of this luscious plaid from MFT.
---
I love this sentiment, especially the two fonts.
---
---
Copic List:
Shirt: RV13, RV21, RV10 Heart: RV14
Skin: E11, E21, E51
Pants: BG34, BG32, BG11
Presents: YG17, YG13, YG11, RV14, RV13, RV11, BG15, BG13, BG11
Ribbon: YR24, Y15, Y11
Drink & Glass: RV02, BG0000
Shoe: RV14
Headband: YG17, YG13, YG11, RV14, E43, E42, E41
Hair: C7, C5, B41
---
Card Details:
Card base of Accent Opaque White 120lb
Caribbean Sea layer cut with Folk Edge rectangle die, adhered with tape runner
Plaid layer cut with nesting rectangle, adhered with fun foam and 1/4 inch double side adhesive
Black layer cut with trimmer, adhered with tape runner
Cotton Candy layer cut with Folk Edge set, adhered with tape runner
Sentiment printed on hammermill, cut with nesting square, adhered o black square with tape runner, adhered to card with foam squares
Image printed on Hammermill, colored with various Copic Markers, cut with Brother Scan N Cut, adhered with foam squares
Memory Box Fairy Jewels added for fun
Envelope embellished with matching papers and 6 inch double side adhesive
---
Shopping List:
Affiliate links have been used in this post at no cost to you. If you do happen to click and buy, I may get a small percentage.
Thank You for supporting my little blog.
---
Glassboard Studio use code: JILL20 for a 20% discount!!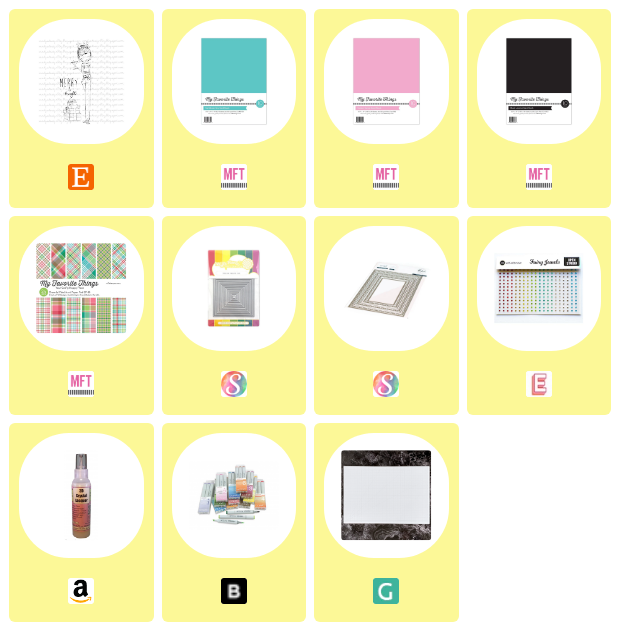 If you would like to see all the basic items I like to use in my studio; like glue, tape runner, tools ect. Please click My Go-To's.
---
---
Don't want to miss a post? Sign up below to have them delivered right to your inbox!
---
---