---
Wow, what a difference a year makes. As most of you know, last June I decided to weather the pandemic at our TINY beach cottage. Guess what?! I am still here. In October we listed our Annapolis house for sale and it sold in 6 days, craziness! At that point we had no idea when we would be able to start building in Delaware so everything went into storage. Luckily most of our stuff ended up in two storage units almost right across the street from our lot. The rest went into our attic here at the beach and what we are calling our mobile closet: a 16 foot enclosed trailer that holds all the hubby's tools and all our clothes. It has been quite the adventure.
They finally broke ground on our new place yesterday! Word on the street is we will be able to move in by the end of July. It is hard to grasp that by then I will have lived at the beach for a whole year. It has been 20 since I did that.
Needless to say, living in a small space, the pandemic and my husbands retirement threw me a curveball. The pandemic sucked my creativity leaving me not making cards or blogging much, until recently. I received the opportunity to teach some card making classes here in Chincoteague and boy did that give me a jumpstart! I have been making a bunch of cards, check my Instagram to see them. Now to get back to blogging.
While I was not making cards I was doing some other things. Luckily for us the winter months bring lots of cool birds to the island. We drive out to the beach and bird watch. Two weeks ago we came across an eagle on the beach and I was able to get about 8 feet from him, getting some awesome pictures.
Along with checking out the birds and taking their pictures, I also did A LOT of crocheting. I am currently working on a bunch of stroller sized baby blankets to sell with a handmade card.
---
Creating an area to work in here has been a challenge. It has changed and evolved a bunch since June. Right now it is pretty functional. Although I had to sacrifice having a guest room. So if you want to visit, you are welcome to…..just book a hotel, or wait til mid-August! By then all this craft stuff should be situated in my new 15 x 19 studio with adjacent storage room and bathroom. Squeeeeeee!
---
---
I am so excited about this wide open area, but believe me I have already designed it in my head several times. The long wall from the Mech closet will be a long table to hold my cutter, gemini jr, score tool, scan n cut, dies and embossing folders. The (WIC) closet will hold all my paper (protecting it from light) and my stamps. Along the other open wall (where the doodle is) will be our old dining room table as my work station. The bedroom will function as a guest room and sewing machine/cricut/other craft storage room. The corner where you see a circle with a x drawn is where my reading chair will go. Only about 115 days til all this becomes reality.
---
On another note, I wanted to tell you about some great Copic Storage things I beta tested over the summer. Stadian Design makes these awesome items with injection molds and a 3D printer. I have three of the cart inserts for a full set of markers and three of the inserts for the old style refills. Having these in the carts has been a godsend right now. They have also created inserts for the new style refills, a mini holder, and a combo holder! I believe he is also working on some desktop items. OH! did I mention he customizes them??
---
They have a super price point and are really sturdy without weighing a ton. Check out all the items below in the shopping list.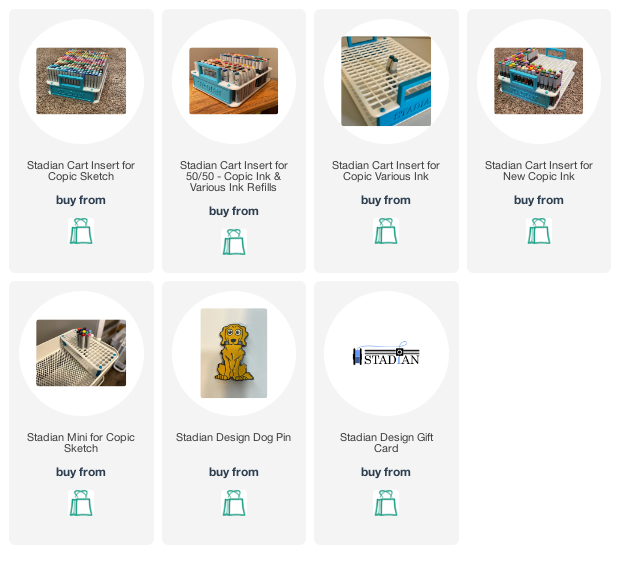 ---
---
I hope you will go and check them out. I really love the product, and endorse it whole heartedly!
---
---