---
Starting the decade with a Mo Manning digi
---
---
Happy first Monday of a new decade from my house to yours. I hope everyone had some wonderful holidays, no matter how or what or where you celebrate. I got sidelined the day after Christmas with a wicked cold, so you may have noticed I gave myself a little break from blogging and posting on Instagram.
---
---
Now onto today's regularly scheduled post!
---
On New Years Eve one of my best girlfriends texted (on our girlfriends group text) that we need to make 2020 the year of health and happiness. I totally concur. Which brings me to todays card. One of my girlfriends was diagnosed around Thanksgiving with breast cancer. On Christmas Eve she had her port inserted and a week ago she started chemo. Todays card is one of probably a ton that I will send her, cause card making is what I do…….:)
---
As you know I have become obsessed with Nuvo Drops. ALL OF THEM! Here on the sign I used stone drops applied with an embossing stylus. They look like little corroded bolts on the card. So cool!
---
I fell in love with the serene smirk on her face. To me it says: I'm hanging on, I got this. Which is exactly how I want my friend to feel.
---
---
---
---
---
Skin: E21, E51, E50
Sign Pole: W3, W1
Dress: B66, B63
Stockings & Heart: R56, RV34, R81
Hair: YR24, Y21
Shoes: T5, T3
Sign: YR23, YR21, Y21
Grass: G28, G24, YG25
---
Card base of Neenah Classic Crest 110lb
MFT Tiny check layer cut with MFT Rectangle STAX, adhered with Kokuyo tape runner
MFT Blue Yonder card stock base cut with trimmer to be slightly larger than the next layer, adhered with tape runner
Mo Manning Digital image printed with Epson WF3720 printer on Hammermill Digital Color Copy 100lb paper, cut with Gina Marie Designs Mosaic Rectangle die, adhered with fun foam and 1/4 inch double side adhesive
Nuvo Stone drops added to sign with embossing stylus
Envelope embellished with matching patterned paper and 6 inch double side adhesive
---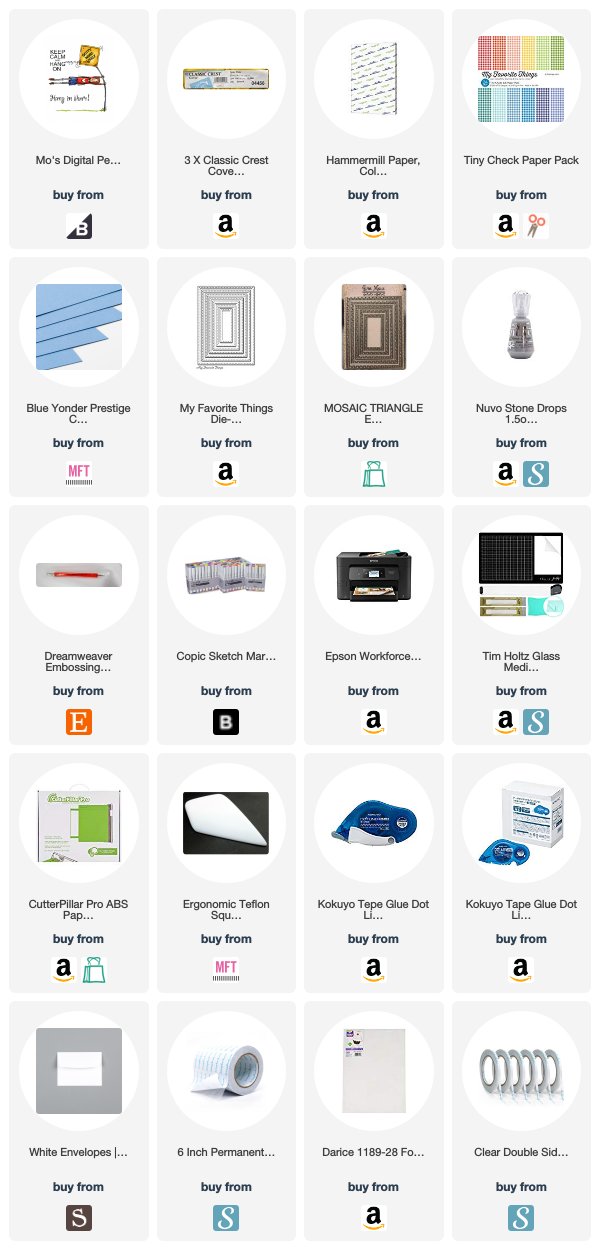 ---
---
---
---