---
---
Stampendous Mini for the WIN!
---
Happy Monday from Annapolis. Little reds trucks in stamping are super popular right now. I have seen them from lots of companies. The one I am going to show you today I received as "swag" from Jen Dove's Copic Boot Camp this year.
---
If you are lucky like I am to have a small brick and mortar craft store that carries Stampendous you should be able to grab this stamp. During different Holidays, Stampendous puts out a group of mini stamps that the Mom & Pop stores can display. They always have a great price point and are easy to color.
---
Of course, I did't have to color this red! Actually I will probably color some more of them and make them blue. Follow me on Instagram to find out.
---
---
---
Tree: G29, G28, G24
Truck: R59, R46, R27
Bumper: W5, W3, W1
Window, Taillights & Side Mirror: B000, B0000
Bows: Y26, Y15, Y11
Dog: E37, E35, E31
Gift: G09, G07, G03
---
Card base of Neenah Classic Crest 110lb
Authentique pattern paper cut with Spellbinders rectangle die, adhered with Kokuyo tape runner
Mossy meadow layer cut with rectangle die, adhered with tape runner
Hammermill layer cut with Gina Marie Mosaic triangle die, image stamped with Gina K amalgam ink in Obsidian
Image colored with various Copic Markers, Crystal lacquer applied to glass and mirrors, glitter glue applied to ground snow and dogs hat, adhered with fun foam and 1/4 inch double side adhesive
Envelope embellished with coordinating paper and 6 inch double side adhesive
---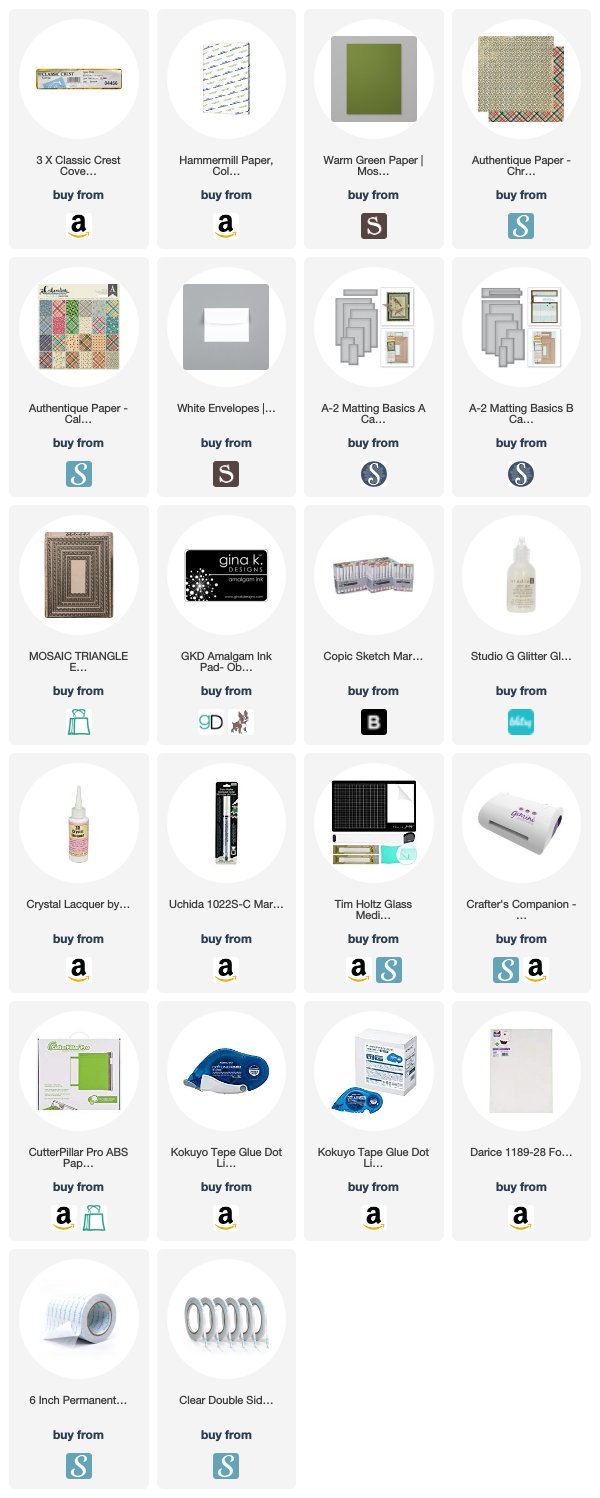 ---
---