---
Papercraft Business Challenge # 24
---
It's November 1st, and that means Paper Craft Business Challenge has a new challenge for you! The theme this month is going to really get you thinking!!
---
Challenges are so much fun. They really help me think outside the box, sometimes help to get me out of a rut and certainly get my creativity flowing. So join us! The worst that can happen is a fun project, a little recognition and maybe even a PRIZE! I cannot wait to see what each of you comes up with! I know my other Design Team Members and myself have some great samples to help inspire you.
---
We have a wedding coming up in November, so my inspiration for you really is going to be a gift! I used this fabulous digital stamp to create a shadow box for my Niece and her Husband-To-Be as a keepsake.
---
I wanted to give my background an Irish feel. Some retired Authentique St. Patrick's Day paper I had in my stash fit this perfectly. Keeping it simple, this is the pop of color I needed.
---
The Brides gown is off white so I chose eggshell colors to highlight the folds, while keeping the dress mainly white.
---
Using Microsoft Word I printed the names and date with a font as close to their wedding invites as I could find and die cut it, adding some black rhinestones for contrast.
---
It's really hard to photograph shadow boxes without getting a glare! I had to lay on the floor well below window light at a weird angle to get this shot. So forgive me if it seems a bit wonky. When I do shadow boxes, I like to put some kind of element along the bottom. Since My Niece and her Groom love the beach these shells seemed the perfect choice. Their soft warm grey color also matched perfectly with the shading in her dress.
---
---
Groom Hair: E79, E27, E25
Tuxedo: N5, N4, N3, BV20
Gown: E40, E41
Bride Hair: E29, E27, E70
Leaves in Bouquet: YG63, YG61
Skin: E11, E21, E51
Flowers: YR000, YR0000 R01, R00, R000, R000
---
Prismacolor Pencil List
Tuxedo: PC1067 90% Cool Grey
Gown: PC1068 10% French Grey
---
Shadow Box Details
Studio Decor Back Loading White Shadow Box 5×7
Authentique layer adhered to back of shadow box with 3 layers of fun foam and 2 inch double side adhesive
Image downloaded and resized from LotV Digi Stamp, printed on Hammermill Premium Digital Color Copy with my Epson WF3720 printer, colored with various Copic Markers and Prismacolor Pencils, mounted to Authentique paper with 2 layers of fun foam and 2 inch double side adhesive
Names and dates created in Microsoft Word and printed on Hammermill paper, cut with Simon Says Stamp Sentiment Labels, black rhinestones added and mounted to authentique paper with foam squares
Small amount of seashells added to bottom of box prior to inserting the back
---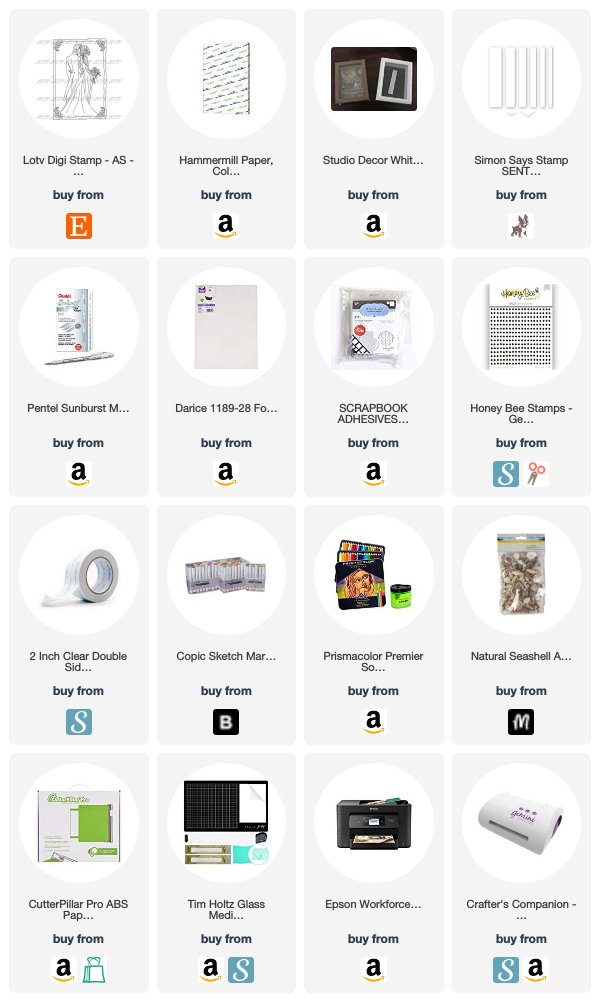 ---
---