Happy Saturday! I have a super fun technique/tool for you today. Recently several friends and I were able to attend a Wreath Builder class with the The Fabulous Gina K. and her daughter Rina from Gina K. Designs. They are both absolutely entertaining and sweet.
R-L Standing: Gina Krupsky, Jeanie Stark, Roseanne Mulhern, Myself,
Squatting: Susan Itell, Rina Krupsky
Seated: Ramsey Alexander, Hilda Burton
If you are not familiar with Gina K's Wreath Builder I will add a video at the bottom. It is a great tool once you know what to do with it. I must confess that most of my friends have had this little gem and used it for almost a year. I looked at it and said eh! who wants to build wreaths? I want to color. I didn't think about it again. When our wonderful Photoscraps announced this class, I was still not sold. BUT! you know I take any chance I can get to take a class from a Designer especially with friends. So I signed up. Well let me tell you how fun it was and how uninformed I was! I totally needed this tool in my studio. SO many super fun things you can create…..and color them too.
These are the cards I did in Gina & Rina's class. You can see how you use the technique in the video to stamp images in a perfect coordinating circle.
The card in the center was done just like the square ones, you then chop it in half (HORRORS!) and add to a rectangular piece of card stock with something in the middle hiding the cut. Clever huh? These were all stamped with Gina K. Inks. Such wonderful bright colors. Did you know that you can use her Amalgam ink line with almost any medium? ie: alcohol markers, watercolor…It is generally my go black.
After class I was so excited to give this a try in the Studio. I decided to use flowers and bees so I grabbed my Stampin' Up! Touches of Texture stamp set.
Copic Markers:
G20, G21, G24
E93, YR02, YR18,
Y02, Y04, Y06

Supply Shop: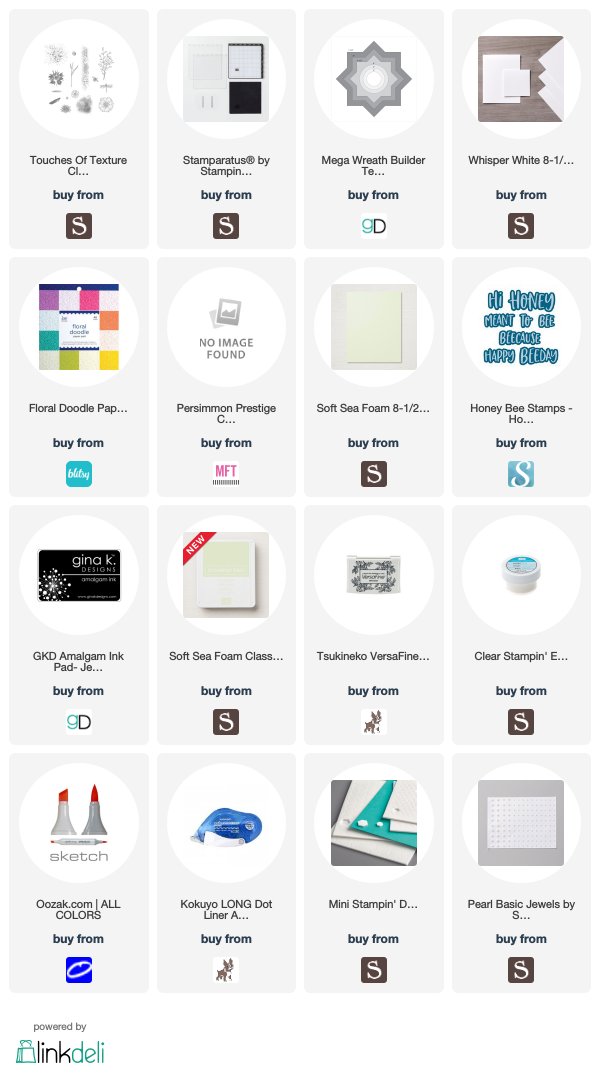 YOU stopping by, please leave a comment to let me know who you are and what you think!
If you liked this post please do
TWO
things: go to the right and follow me by email
AND
go to the bottom right and become a Follower.