Good Morning from Phoenix.
This month two of my 5 Granddaughters have Birthdays! (We have six Grandkids in total and only 1 boy!) Our third youngest will be 4 on March 10th
Lilah Jane
So I set out to make her one very special card.
My Favorite Things is one of My Favorite Things they have SO many awesome stamp sets. The set I used for this card was a recent release called Birth-Yay. It is a super fun design with really cute sentiments that are great for kids and make really humorous ones for adults. Like "another year taller". Who does not have a friend who would laugh at that!?
The animals in this stamp let you be really creative with color. I was able to make this card bright and happy, just like Lilah!
**The number 4 I used is a retired Stampin' Up! Large Number Framelit Die.
You could substitute Honey Bee Stamps Bold Numeric.
Copics:
Red: RV17, RV34, RV32
Orange: YR68, YR65, YR61
Blue: B000,B01, B04
Brown Fur and Faces: E50, E51, E11, E23, E21,E25
Cheeks: E93
Purple: BV04, BV02, BV01
Gray: W01, W02, W03, W04
Turtle Shell; Y11, YG01, YG05
Black: N10
Grass: G29, YG67, YG17, YG03

Shop The Supplies: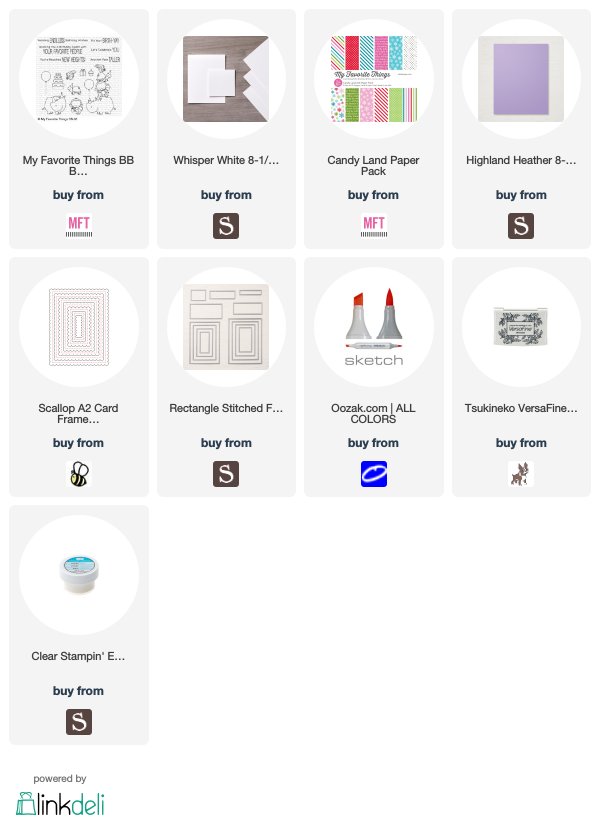 YOU stopping by, please leave a comment to let me know who you are and what you think!
If you liked this post please do
TWO
things: go to the right and follow me by email
AND
go to the bottom right and become a Follower.