Good Morning from Phoenix AZ!
Yes, we are on the road again. January, February and March are typically "travel busy" for us. I have to admit it has been challenging this year, adding Mr. Finn into the mix. Juggling travel, classes, blogging, creating, and training a puppy! Which brings me to the reason for this card. We are truly VERY thankful for our awesome pet/house sitter. She really makes it easier to leave knowing our trio of fur kids ( Now nicknamed Little Man & The Girls) are well taken care of.
I really do not pose them! I found them like this the other morning after I had been downstairs on the recumbent bike. they truly make me smile all day long.
That being said, I set out to create a card for Liz, our dedicated sitter. I generally leave her payment inside a card. Don't you try and use a card whenever possible? I know I do! I have previously told you how we give Flight Attendants and Hotel Housekeeping Staff tips and Starbucks gift cards inside a Thank You card. I truly feel that little extra step makes people really feel appreciated.
Originally when I saw this stamp set, I knew I wanted to color those flowers blue. When I started I realized that there was a lot of greenery and it could not be all the same color. Making the flower leaves a more emerald green and the larger leaves a darker ivy green. I figured the tiny leaves were probably supposed to be greens also but that was too much, so I made mine pink to break up the colors. typically I figure out all the papers prior to coloring, this time I did it backwards and matched the paper to the already colored flowers. Dragging the edge of the Flirty Flamingo card stock in the Flirty Flamingo ink to add some dimension. After stamping the sentiment ( retired stamp set Good Greetings) with Versamark and heat embossing it with clear powder I added a teeny bit of Nuvo drops to the center of the flowers, again to add a bit of dimension.
I wanted to point out that on the blue flowers I did not color to the edge, but left some white. This again is for dimension, since alcohol markers do not have white! Sometimes you need to use the paper as your white. This technique was one we practiced in a class I took on Tuesday with my favorite Copic Instructor, Nancy Sheads of Rowhouse Greetings.
blue flowers: B66, B63, B21
pink flowers: RV34, RV32, RV11
small leaves: G07, G14, G12
large leaves: YG67, YG17, YG03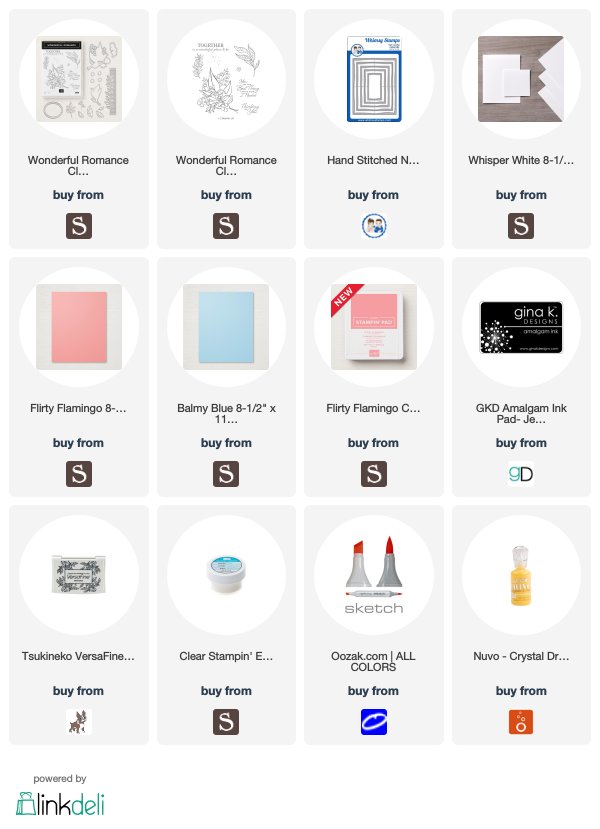 YOU stopping by, please leave a comment to let me know who you are and what you think!
If you liked this post please do
TWO
things: go to the right and follow me by email
AND
go to the bottom right and become a Follower.